HAMILTON EARTHWORKS – EXCAVATION
Get a Hamilton Digger – Hamilton Excavation and Earthworks Services

Earthworks
Looking for a Hamilton excavation / Earthrworks service in Hamilton that can handle all your excavating needs? Look no further than Hamilton Excavation Services. We are a full-service excavation company that has been serving the Hamilton area for years. We specialise in residential and commercial excavating projects and have the experience and equipment to do the job correctly.
Reasons you can trust our service:
Our team of professionals is dedicated to providing our customers with the highest quality of service possible.
We have all the right tools for all kinds of jobs you want
We're always on time, and we always clean up after ourselves.
We know that excavating can be a messy business, but you can rest assured that we will leave your property in better condition than when we found it.
Some of our excavating services include site preparation, residential and commercial earthworks, retaining walls, site clearing, concrete services, and driveway formation. No matter what your excavating needs are, we can help because no job is too big or too small for us to handle.
If you're ready to get started on your next excavating project, contact Hamilton Excavation Services today. We will be happy to provide you with a free estimate.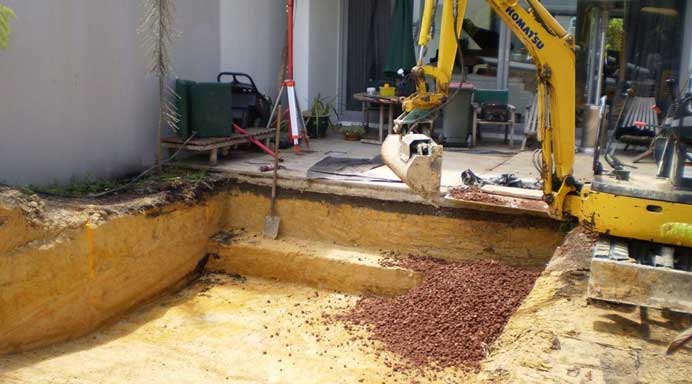 Hamilton Excavation Earthworks Services
At Hamilton Excavations, we provide a wide range of earthworks services to the people of Hamilton. From excavating and clearing sites to grading surfaces and building retaining walls, our experienced team is equipped to handle all your project needs.
We can also assist with driveway construction, drainage installation, site restoration, septic tank installations, and more. Our commitment to quality means that no matter what service you require from us, you'll always get the best results possible. We strive for excellence in everything we do so that your satisfaction is guaranteed.
From start to finish, it's easy to see why our customers come back time again: top-notch workmanship combined with friendly customer service ensures that each job runs smoothly. With years of experience on our side, we have the expertise needed to ensure the success of any project – big or small. Now let's take a look at why you should choose us for your next earthworks project.
Why Hamilton Excavations
At Hamilton Excavations, we have a wealth of experience in the industry. We offer reliable earthworks services that come with our promise of quality and efficiency. Why choose us?
We are dedicated to providing excellent customer service and will go above and beyond for each individual project. Our team is experienced and knowledgeable, so you can trust us to get the job done right – every time. Plus, we take pride in doing our part to protect the environment by following all safety protocols. That's why when it comes to earthworks services in Hamilton, there's no better choice than Hamilton Excavations!
Our commitment to excellence doesn't stop after the job is completed either; we make sure to check up on your project even after completion. So, when you're looking for reliable earthworks services in the area, you know where to turn – Hamilton Excavations! With us at the helm, you can rest assured knowing that your project is in good hands. Ready to learn more about our process?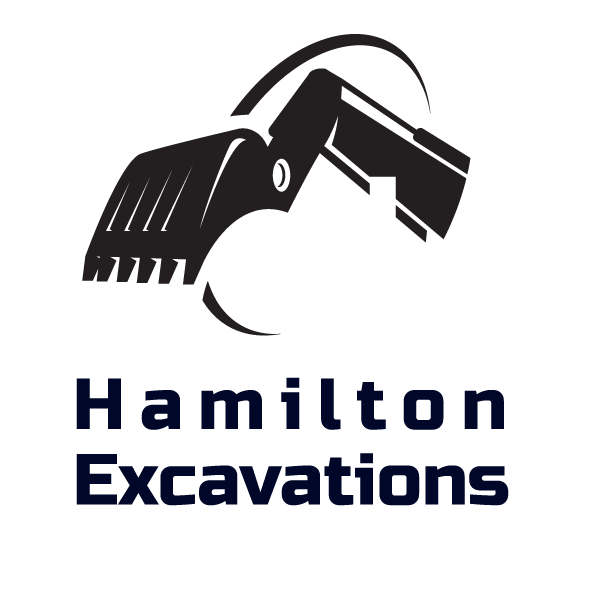 Excavation and Earthmoving
Earthmoving is a key part of earthworks services in Hamilton. It involves the movement and reshaping of large amounts of soil, gravel or other material to create a foundation for construction projects. Excavation machines are used to dig trenches and move these materials from one area to another as needed.
At Hamilton Excavations, our team has extensive experience with all types of earthmoving tasks. From digging foundations for new buildings to creating drainage solutions for existing structures, we can handle it all.
Our professional excavation equipment makes quick work of any job around Hamilton and its surrounding areas. We also provide demolition services when necessary. With our help, you'll be able to complete your project quickly and efficiently while getting the results you need.
Trenching
Trenching is a critical part of many earthworks projects. It involves digging deep and narrow trenches to create space for utilities, such as plumbing and electricity. At Hamilton Excavations, we specialize in all types of trenching services.
Our team has the equipment and experience necessary to create perfect trenches that are level and straight while following safety regulations. We know how important it is to maintain precise measurements with each job so that everything fits together properly when construction begins. Our technicians will work closely with your contractors to ensure the highest quality results.
With our expertise in this area, you can rest assured that your project will be completed efficiently and safely without any issues arising down the road. 
Block Wall / Retaining Walls
At Hamilton Excavations, we specialize in block retaining walls. This type of wall is a popular choice for many homeowners due to its durability and aesthetic appeal. Our team has extensive experience with the installation process and can create an attractive yet structurally sound wall for your property. We strive to make sure that every step of the way meets our strict standards for professionalism and safety.
We also take great pride in completing each project on-time and within budget constraints. Our experienced crew will ensure that all necessary measurements are taken so that the blocks fit precisely when being stacked or laid out along a slope. Plus, you can count on us to use only high-quality materials to construct your wall properly and reliably.
By partnering with Hamilton Excavations, you'll be able to rest assured knowing that your block retaining wall will stand up against the elements while providing years of enjoyment and security. With our attention to detail and commitment to excellence, you're guaranteed satisfaction from start to finish. And it's just one more reason why we remain one of the area's most trusted earthworks services providers – ready to move onto trenching as our next step!
Retaining walls are specially engineered to offer a range of benefits for your home. Available in a variety of materials, retaining walls can provide the following:
An effective way to hold back unstable soil
A feature with in-built seating or planter spaces
Prevent the ground from shifting or getting washed away
Extra support for structures that surround your property
Add value to the property
Improve the stability of the landscaping
Protect against potential soil erosion
Create defined and balanced outdoor spaces
Great for property levelling
Local Expertise
At Hamilton Excavations, we are proud to offer local expertise and services for earthworks projects in the greater Hamilton area. Our team of experienced professionals have all grown up and worked in this region, so they understand its unique conditions and challenges. We bring that knowledge with us when we start each project – ensuring you get a tailored solution designed specifically to meet your needs.
Our staff also keep abreast of any new developments in the industry, enabling them to use the most up-to-date processes and equipment on every job. This means our clients can trust that their projects will be completed safely, efficiently and with minimal disruption or environmental impact.
As such, it's no surprise that Hamilton Excavations is one of the leading providers of earthworks services in the area. Ready to take your project to the next level? Let's explore our selection of equipment & machinery…
Equipment & Machinery
At Hamilton Excavations, we have all the necessary equipment and machinery to get your earthworks projects done right. We understand that having access to reliable tools is essential for completing any job quickly, effectively, and with lasting results.
Our selection of machines includes:
• Skid Steers – capable of handling a variety of tasks including site preparation, material movement, grading, and more
• Mini-Excavators – perfect for tight spaces or working in confined areas where larger excavators cannot reach
• Dump Trucks – efficient at hauling large loads even on rough terrain
• Tractors & Loaders – great for digging trenches, pushing dirt piles, and other excavation duties.
No matter what type of project you need help with, our team has the expertise and experience to make sure it's done correctly. Our commitment to safety ensures that each job is done without compromising quality or putting anyone at risk. With this combination of top-notch equipment and professional know-how, we can guarantee a successful outcome every time. Moving forward into professionalism and safety protocols will ensure that all work is completed efficiently and safely.
Professionalism & Safety
At Hamilton Excavations, we take great pride in the professionalism and safety of our services. Our team is highly trained to carry out earthworks for residential, commercial and industrial projects. We use the latest technology and equipment to ensure that all works are carried out quickly and efficiently with minimal disruption.
Safety is paramount – from providing protective clothing to deploying rigorous risk management strategies. We also provide detailed supervision throughout each project so you can rest assured that your work will be completed according to industry standards. And our experienced staff members have a wealth of knowledge in this field which they can draw on at any time during the process.
We strive to deliver excellence while ensuring everyone's safety at every step of the way – something that sets us apart when it comes to block retaining walls.
Looking for an Excavation company in Kansas City? Check out Excavation Kansas City
Freequently Asked Questions
What Is The Cost Of Your Services?
At Hamilton Excavations, we understand that cost is a primary concern when considering earthworks services. We offer competitive rates for our work and are more than happy to discuss your individual project needs with you in order to provide an accurate estimate.
We have been providing reliable services to customers in the Hamilton area for many years now and take pride in offering quality solutions at reasonable prices. Our team of experienced professionals will be able to answer any questions you may have about pricing or the scope of your project so you can make an informed decision. With us, you can rest assured that all your requirements will be met without breaking the bank.
What Is The Turn Around Time For Projects?
At Hamilton Excavations, we understand that time is of the essence when it comes to your earthworks projects. That's why one of our most frequently asked questions is: what's the turn around time for projects?
We're here to provide you with peace of mind and quick results. Our experienced team will assess each project individually and come up with a timeline tailored to suit your needs. This could include anything from a few days to several weeks depending on the size and complexity of the job. We'll always keep you in the loop throughout so that you know exactly how quickly things are progressing.
Our commitment to efficiency means that no matter what kind of service you require, you can be sure that your project will get done right and as fast as possible – without compromising on quality or safety standards. So don't hesitate to reach out if you need help with any earthworks project – we'd love to assist!